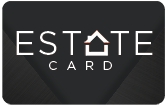 THANK YOU FOR INSTALLING!
Your new Estate Card Rewards button has now been successfully
installed and added to your browser's address bar.
Here's how it works...
Your Estate Card Rewards button is now active and ready to help you earn reward whenever you
shop at 3,000+ online stores.
---
Show your extension
Click on the "Extensions" button in your brower's upper right corner that looks like a jigsaw puzzle piece in the browser toolbar.
A drop-down menu will show you all the installed extensions along with "Estate Card".
Click on "Estate Card" to pin it in the toolbar.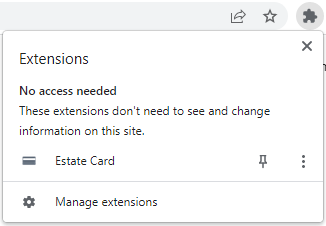 EARN REWARD direct from the Store's Site
You can now earn reward any time you visit over 3,000+ online store's sites directly. A
drop down banner will display the reward amount.

All you have to do is click on the "Activate Your Tax Reward" in the banner to activate
your reward on anything you buy during that visit.


Once activated, the banner's text will change color from red to green and the
reward button on your browser's address bar will also turn from red to green.
---
EARN REWARD Whenever You Search
Now you can earn reward whenever you search with Google, Bing or Yahoo.
Your search results will now have an Estate Card logo and the amount of reward offered above that store's listing. Just click on the Estate Card logo banner above the store listing and begin earning reward on your purchases.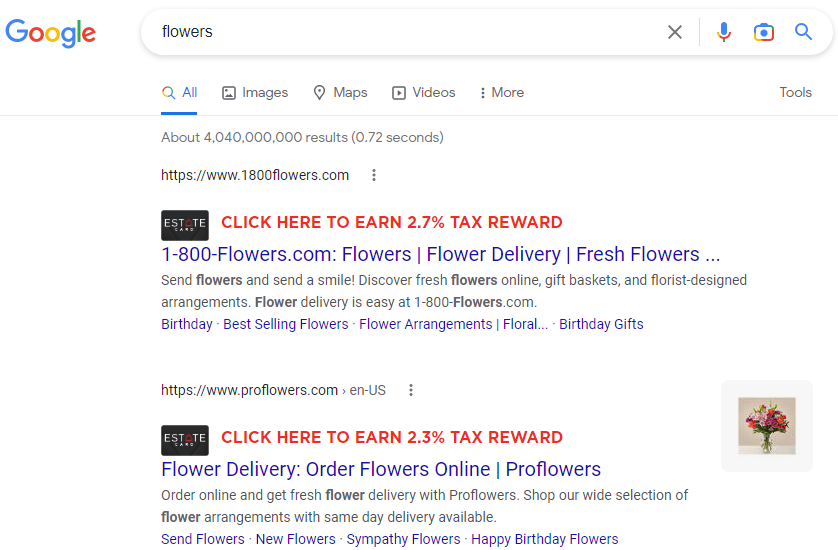 ---
The REWARD Button
Your reward button is located on your browser's address bar. The color of the reward
button indicator shows the reward status for the store you are currently visiting.

If the reward button is green it means that reward is both available and
activated! You do not need to do anything else to earn reward but shop!

If the reward button is red it means that reward is available but you need to click
to activate. Just click the banner message over the store's site or on the red reward
button to reveal the "Activate Reward" button.

If the reward button is gray it means that reward is not available from that website.
---
The REWARD Button Menu
On your browser address bar, you can access the reward button menu by clicking on it.
This will drop down a menu from the button with the following functions:
Log into MyEstateCard.com
If you click on the Estate Card logo in the
upper left corner, this will open the Estate Card website with you logged into your account.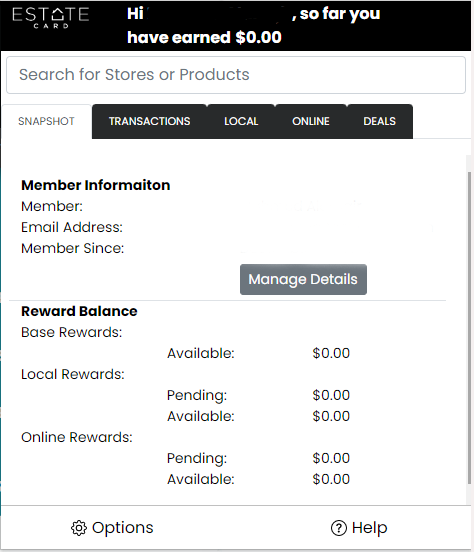 Activate Reward
Any time the reward button is red, you can
click on the Activate Reward link to start
earning reward on the store's site. When you
do, the button will change color from red to
green to indicate that reward has been activated.
Snapshot
See a snapshot of you're account including
your reward earnings.
Transactions Tab
See your most recent transactions and reward amounts earned.
Local Tab
See list of local stores available
Online Tab
Shop the most popular online stores and check out
their reward available!
Deals Tab
Check out our latest Hot Deals and
Promo Codes offered by our stores!